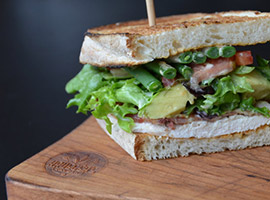 Beer, Sausage, & A Chicken Club To Die For At Krueger's Tavern
· CincinnatiRefined.com · Leah Zipperstein · Jan 9 2015 ·
Open since early December, Krueger's Tavern is the new kid on the block. But he doesn't play that way. He plays like he knows the neighborhood rather well. Idk, maybe he has cousins who live there. Yup, he sure does.
The Lanni brothers along with business partner Alex Blust (who together also own Bakersfield and The Eagle) bought the space that formerly housed Lavomatic and have completely transformed it. We're not even kidding. The walls are made of moss installations. It's trippy.
While Lavomatic's arrivial once signaled life on Vine St., Krueger's signals a vibrant and beating heart. The Tavern offers over 100 cans. That's, in part, because the name pays homage to the first brewing company to put beer in cans. But it's about more than just beer. They have cocktails, too — with beer — which makes this particular writer extremely giddy. And I haven't even mentioned the gin that they produce.
It's called bathtub style gin that they infuse from vodka with juniper, cardamom, and other flavorful additions. The house specialty is the crushable "Gin and Juice." Snoop Dogg hasn't tried it yet, but we're confident he'd be a fan.
Let's switch gears now to the menu, which was created by Chef Chas Barracato (formerly with Melt in Northside) and Joe Lanni (co-owner). They oversee the menu for all three restaurants.
And as far as the food is concerned, I have plenty of recommendations, but there's one you MUST HAVE. The Roast Chicken Club is pretty darn close to sandwich perfection. Toasted bread, but not too toasted. Actual chicken breast cut to just the right thickness. Then, there's the avocado, bacon, and garlic aioli. All of those ingredients are great, but the one item that puts this sandwich over the edge, the thing that makes the Chicken Club go from great to dream-worthy, is the haricot vert. (I'll wait a sec while your mind un-blows itself.)
Of course, Krueger's is really known for its sausages — hand-made on the premises. So you should definitely try one of the four, but don't forget to also get that Chicken Club. I promise. I'm not overhyping it.
Now, above and beyond excellent food and drink, the thing that the Lanni & Co.'s restaurants are known for (other than two-hour wait times) is top-notch service. Turn up the tunes and put a smile on your face because it's time to party. We're not saying you gotta rage or anything, but a party is meant to be had anytime you walk in the door of one of their establishments. Krueger's Tavern is no exception.
· Go to original article ·
See all Press