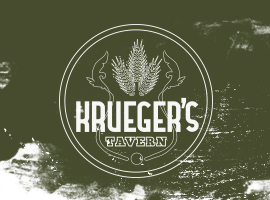 Krueger's Tavern now open in OTR
· SoapboxMedia.com · Caitlin Koenig · Oct 29 2014 ·
When Lavomatic closed this summer, Thunderdome Restaurant Group quickly signed a lease for the space, which is right next door to Bakersfield. There was lots of speculation surrounding the coming restaurant, and this December, a new concept, Krueger's Tavern, will open.
Many years ago, the space was home to a Laundromat, and opened as Lavomatic in 2008. It was the first restaurant to open in the Gateway District.
The building, which is the only open-air restaurant in Over-the-Rhine, is currently undergoing a remodel to fit the tavern concept. The Krueger's menu will feature sandwiches and tavern food, with more than 75 varieties of canned beer, as well as a full bar.
Four types of sausages will be made in-house, and will be served with sides instead of on buns. The sandwiches will include a sloppy joe and a chicken club, made on bread from 16 Bricks.
The name for the restaurant comes from Krueger's Brewing, which was a New Jersey brewery that, in 1935, was the first to sell beer in cans.
Thunderdome owns four Bakersfield restaurants with two more to come, several Currito locations, The Eagle Food and Beer Hall and SoHi Grilled Sandwiches in Oxford.
· Go to original article ·
See all Press